IPIO is a universal I/O device and corresponding mobile app. By "universal" we mean that it can be used to monitor and switch any electronic/electrical device. Our expertise is in the Security Industry and typically IPIO is used to switch CCTV systems, Alarm systems, PIR systems, door and gate locks, security lights, audio warnings, etc. However, it could be used to switch a washing machine. Although none of our customers have used IPIO to control a washing machine many have found interesting and surprising uses for IPIO. To support "universality" the labels on each output button are editable. Button names and action status can be changed to suit the device under control.
Labels on buttons
The default label on a button is "Output (1234), Armed/Disarmed". This can be changed to give more meaningful notations (Settings/Name/On Status/Off Status). The notations are also reflected in the event logs and app notifications.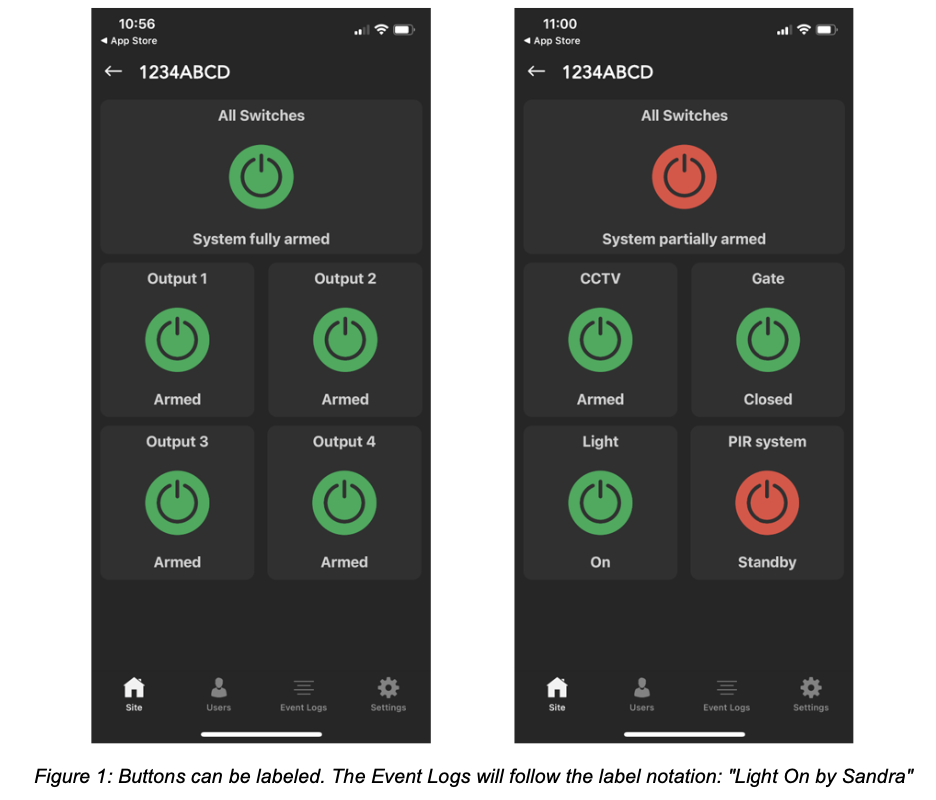 Only display active buttons
The default set up for an IPIO unit is to display 4 Outputs and no Input ports. This can be changed to suit the individual set up. In many IPIO installations not all four Output ports are used. If a button is not being used it can be removed from the app. This creates a cleaner set up for the user.
Inputs
Input tiles are by default not displayed. They can be made active in the Settings area. Inputs 1-4 are for physical inputs that correspond to the input ports inside the IPIO box. These can be wired to door sensors, intruder alarms or any other device. Inputs 5-8 are virtual inputs that can be used with Sigfox input devices.