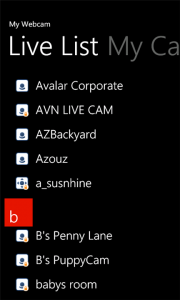 EyeSpyFX are pleased to announce the launch of MyWebcam for Windows Phone.
View your webcam & 100's of webcams worldwide live on your Windows Phone.
This is our first Windows Phone Application & we're very excited about the potential new users the platform might bring.
You can expect to see more of our Apps coming to the Windows Marketplace soon.
Including WorldCams, AXIS Cams, D-Link Cams & others.
MyWebcam is already available on Android, Blackberry, Java Mobile, iPhone & iPad.
So this latest addition makes the MyWebcam service available to users on all the major mobile platforms.
Get it now on the Windows Marketplace